Independent Roofing - Our Services
Asphalt shingles are among the most common materials used in building roofs in residential America. Around 80% of American homes have asphalt shingle roofs.
These types of shingles are quick to install, repair, or replace. Also, no special tools or accessories are needed to install this type of roof.
Asphalt shingle roofing is available in a wide range of shapes, styles, and colors, so customers can customize their shingles to match their home or desired aesthetic. They also work well on properties with steep and sloping structures.
Fireproof and waterproof, asphalt shingles provide an additional layer of protection to customers' homes. This type of roofing also has mineral granules to deflect ultraviolet rays. If properly maintained, asphalt shingles will last for around 25 to 30 years.
For any questions about the process or materials used for asphalt shingle roofs, send us a message. We will get back to you as soon as we can.
TPO (thermoplastic polyolefin) is a highly reflective, lightweight, waterproof roof covering that is designed especially for flat/low slope roofing applications.
TPO single-ply roof systems combine a plastic (polypropylene) and a rubber (ethylene-propylene) to produce a technologically advanced roofing system.
These roofs are reliable, affordable, and environmental sound due to their highly reflective properties. They can be installed over virtually any substrate and come in a variety of colors. Colors other than white, tan, and grey are made per job and must be ordered at a minimum of 10,000 sq. ft.
Because the seams are heat welded they are impervious to water and ice. Even ponding water cannot penetrate this system! Because the heat-welded seams are fused together with a process that involves no open flames, it is much safer than the old hot tar or torch down systems.
Finish your roof with custom-fabricated 24-gauge metal copings and flashings. We can bend metal to your exact specifications and have over 30 colors for you to choose from to beautify and enhance your commercial or residential properties.
CEDAR SHAKES...
Carbon neutral Roofing
Installing a Green River or Black Hawk cedar shake or shingle, instead of other roofing materials, has on average the same environmental impact as not driving your car for one year.
Green River is leading the way in the roofing industry with our Carbon Neutral Roofing® certification. The Reserve Collection from Green River and Black Hawk are now carbon neutral. When you use our shakes and shingles, you are reducing the greenhouse gas emissions which accelerate global warming.
We certify that your shakes and shingles are carbon neutral, from forest to rooftop.
Global warming greenhouse gas emissions used in the production of The Reserve Collection shakes and shingles are the lowest in the roofing industry.
Pound for pound, wood products use less energy to manufacture than other materials. It takes 5 times more energy to produce cement products, 25 times more to produce steel, and 30 times more energy to produce a pound of plastic.
Green River uses environmentally clean energy to produce its cedar shakes and shingles. Then we erase what little carbon footprint we've created by planting more trees that will sequester more carbon during their life cycle.
Green River and Black Hawk shakes keep saving you money every year. With insulating "R-values" that are more than twice that of asphalt, concrete, and metal, you reduce your annual energy consumption. And that means fewer greenhouse gas emissions every year.
Cedar shakes and shingles are lightweight. Therefore, we can ship up to 4 times the amount of roofing material on one truck than other roofing materials. That means you're reducing greenhouse gas emissions just by shipping our lightweight shakes and shingles instead of heavy tiles and asphalt.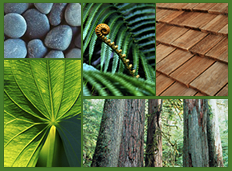 METAL ROOFING...
consider the many advantages a metal roof can offer your home.
Maintenance
A properly installed metal roofing system is virtually maintenance-free over the life of the roof.
Strength
Metal roofing does not warp, split or crack and is impervious to mildew, rot, termites, and pests.
Noncombustible
Most metal roofing systems carry fire ratings that can reduce the homeowner's overall insurance rate.
Life Expectancy
A quality metal roof should last the lifetime of the owner.
Aesthetics
Metal roofing is beautiful as well as durable and is available in many different styles, configurations, and colors to fit diverse architectural requirements and tastes.
WeightMetal roofing weighs from 1/10th to 1/2 as much as competing materials, translating to lower transportation costs as well as construction costs.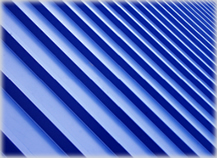 Tile Roofing
Designed for Long-Term Performance
With over a century of proper field performance in other parts of the world, tiles provide the longest track record of performance compared to other roofing materials.  Higher weight and strength allow tile to meet the anticipated loads of today's design requirements for all of the climatic regions.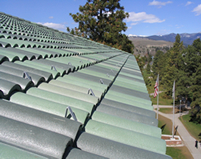 Available in a Variety of Colors and Styles
Roof tiles come in many colors, shapes, and sizes. In fact, with modern innovations, concrete and clay roof tile manufacturers can produce tiles to suit any architectural style. The possibilities are virtually limitless.
Long Lasting Protection 
Some clay roof tile manufacturers guarantee their tiles against fading for 50 years.
To maintain their long-lasting beauty, the weight of tile is important because it provides
enduring protection without developing problems like other roofing materials. There are also varieties of lightweight tiles offered in certain regions of the country that are ideal for new and re-roofing projects.
Can sustain high winds 
With proper installation, tile roofing is one of a few select roofing systems
that is proven to withstand sustained winds of 150 miles per hour found in Florida.
Economical
Clay and concrete tile roofs are one of the most cost-effective choices due to their long
Lifespan—50 to 100 years or more. Both concrete and clay tile outlast other roofing
materials, with manufacturers offering warranties from 50 years to the life of the
structure. In fact, in Asia and Europe, many structures with clay roof tiles have remained
intact, functional and beautiful for centuries.
Require limited maintenance
All roofing systems require some maintenance, and certain climates and regions have special issues to address regardless of the type of roofing system. Under normal conditions, tile roofs require minimal maintenance.
Taken from Tile Roofing Institute; The Facts about Tile Roofs